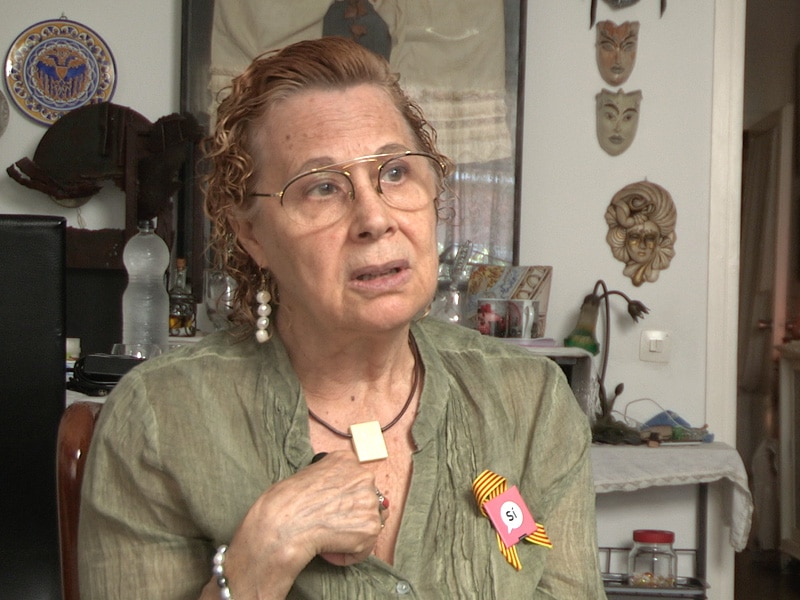 My name is Dolors Muntané, but my Spanish ID says María Dolores Muntané Coca. My family calls me Dolors and I've always signed as MD Muntané, because there weren't many women in my generation
working in science journalism. I did it in a George Sand style. My signature was gender-ambiguous.
I've always signed as MD Muntané. However, I sign my current books in Editorial Barcino as Dolors Muntané or Maria Dolors Muntané. But I've always signed as MD Muntané
in the medicine field.
Question.
I'm from the post-war generation. I was born in 1943 in a small town called Reus, which used to be very important within Catalunya before the Civil War.
It was the capital of Tarragona's comarca [A comarca is a group of municipalities, roughly equivalent to a US "county" ] and it had a viticulture tradition. As the saying went: "Reus, Paris and London".
It was the aiguardent's market. The first price was the Reus one, followed by Paris and then London.
Reus had a great importance from this point of view. Unfortunately, at the beginning of the 19th century this came to and end with the pest of the phylloxera.
The fortunes made trough/thanks to aiguardent were invested in textile. The city was already rich
when I was born. Things have changed since then. When I moved to Barcelona in 1964, Reus had 40,000 inhabitants and nowadays it has 103,000.
It's full of immigrants and there are a lot of problems.
Question.
I've published around 30 books on arts and medicine. Obviously, most of them are about medicine because I've specialized in scientist divulgation. Especially, in avant-garde's medicine.
For example, I used to talk about allergies from a psychosomatic point of view. In the 80s and now, for the last 20 years, I've specialized in the anti-ageing and auto-molecular medicine.
I'd say 20% of these published books are on art, and the rest, on medicine. I've one on business communication that is called 'The book to lead meetings successfully'. It's the first time ever
that systematic philosophy has been used, the one that has been applied to business quality controls.
And that was quite important at the moment. Obviously, it would need to be updated now and to be on social networks – and I don't know much about that.
Question.
I've always been told histories about the period prior to the Civil War and about the War. My father played and special role
within the Spanish Civil War. As I mentioned earlier, Reus was a small town and my father
was very keen on sports. He was a cycling champion and skeen and pigeon shooting champion.
He was requested as a soldier and right after he was discharged, he had to go to the war. He was one of the first soldiers recruited.
What's the deal? He wondered whether he would had to kill the enemies in first row, because in a small town like Reus everybody knew his shooting skills.
He was scared to death. My father was a pacifist. With all the family savings, they [his family] bought him a motorbike and he joined up/enlisted in
the Republican government. He had to go there because of where he was. Moreover, it was the legal government, don't let them fool you. He offered his motorbike to the army.
He served as a liaison during the Civil War. That's how he spent the war, carrying the motorbike on his shoulders and crossing cliffs.
He served as a liaison because mobile phones didn't exist back then. Phones, on the other hand, were intercepted by the enemies. He spent all the war like this until the Battle of the Ebro.
In the Battle of the Ebro someone stole his bike and so he offered himself as a stretcher-bearer. He saved a lot of lives during the Battle of the Ebro.
He appeared various days in the agenda. They thanked him for his service. But, when the war came to an end, this was useless.
Because the government that won was the one that made the coup, Franco's one. He was branded as a red, a communist, and so he went to the concentration camp
that was located in Malgrat de Mar. He had to cross borders through the Pyrenees, melting the snow to drink water. He spend between 9 and 18 months in a concentration camp.
Once free, he returned home. My grandmother died from breast cancer and I believe that this is because the influence of psychosomatic.
I'm convinced that this cancer was the result of the suffering she endured while my father was in war.
Question.
I was educated under Franco's regime because I was born in 1943 and I started school when I was 5 years old. I obviously went to a Catholic covent school
that was near my home and the workshops. Even if the school was totally ruled by the nuns, we still had to follow Franco's guidelines.
At 6 or 7 AM, we had to sign Cara al Sol [the anthem of the Spanish Falange party] in the playground. The exercise routine was, as well, imposed by the Sección Femenina [women's branch of the Falange political movement in Spain.]
In Batxillerat, there was an horrible subject named Formación del espíritu nacional, which you obviously had to pass. It included the guidelines of Franco's coup
and Franco's reign worship. It was abominable. A friend and I decided to burn the books when we passed the subject. I have always been sort of a rebel.
We threw it to the school's pond. Later on, I studied childhood education. I finished my degree in 1963 but I didn't get the title until 1969.
Why? Because you had to take some courses in the Sección Femenina. Because of this, I wasn't able to sit for a public entrance and so I could only teach in private schools.
In order to teach in public schools, I needed the official title. Since I refused to take the courses, I didn't have the title.
In 1969, I moved back to Tarragona from Barcelona and I started teaching Latin and Greek. I had studied arts and one
of my teachers had been the eminent Valentí Fiol, professor of Latin and Greek in the Universitat de Barcelona. He founded the Bernat Metge anthology,
which offered Catalan translations of Greek and Latin books. He was a victim of reprisal and Franco's government degraded him
from professor in the Universitat de Barcelona to high school teacher. He was exiled in Reus. I took advantage of his knowledge. In 1969, before moving to Paris, I spent some time in Tarragona.
I taught Latin and Greek in a school from the Sección Femenina. In exchange of that, they signed the papers as if I had taken the courses and I recieved the official title.
Question.
The public health system from the 70s had nothing to do with today's one. There weren't a lot of community health centers. You had to walk a long way or go to the province.
because not all towns or neighborhoods had one. You had to take a train or car to the community health center in the capital.
There weren't district hospitals. For example, the one in Mora d'Ebre didn't exist. There was one in Reus but different from today's [hospital].
It had a lack of resources, and since doctors were from the countryside, their skills were archaic, and very backwards.
In 1977, when the Estatut de Sau was on everyone's lips, I was commissioned to make an inventory of the equipment on-hand at the Catalan community health centers.
It was necessary in order to transfer the power from the Spanish Government to the Generalitat. Back then, I was working as a correspondent in Noticias Médicas.
I have donated [the inventory] to the Centre de Lectura de Reus, so everything is filed there. It's a historic and private
library that supports Catalunya. It's deeply tied to the city of Reus, and they have granted a space to file all my archives.
Question.
My time in Paris? Well, I moved to Paris in 1973, and it changed my life. Back then, I was married to a photographer, and
life was very difficult. I was a teacher in the Col·legi de les Teresianes, which doesn't have anything to do with what I've ended up doing.
But he was a press photographer. And here, in 1973, Franco was still alive, even though people were hoping that he would die, and things would change.
The press was as censured as it could be. He felt constrained. He met José Luís de Vilallonga, the aristocrat. In one of his travels to Paris,
José Luis got him in touch with his brother-in-law, the director of ???. We moved to Paris so he could work there.
The first year, I devoted myself entirely to looking after our children. My poor kids came from the Castilian school, and they didn't speak any French.
They had taken French classes in Catalunya, but couldn't speak French. So the first year, I devoted myself to them.
I taught them French, and leveraging my teaching background, I taught them the other school subjects as well. We came to the Teresianes for every exam
so they wouldn't be left behind. The following year they were able to study in the French school. Once they enrolled, I started going to art exhibits frequently.
I fell in love with Conceptual art. I truly fell head-over-heels. I had only been to Figurative art exhibitions, because you didn't find any conceptual art in [Catalunya].
Paris, in 1973, was influenced by [the events] of May in 1968. There were happenings, environnement and a wealth of spirituality and creativity.
I immersed myself, and I fell in love. Since we weren't a part of the European Economic Community, my academic degrees weren't valid [in France].
I audited classes in art and scientific journalism. I studied art because I liked it.
Medicine is a different matter. I was hired to work on Noticias Médicas [magazine]. It was edited by the same publisher of
Gaceta del Arte, a magazine I was working on in Paris. [Politician] Manuel Fraga, establishes a new guideline for presses that
states that all medical magazines must contain 50% technical material. Back then, magazines such as Jano or Noticias Médicas were filled with
articles about the Maldives, and ads for pharmaceuticals. Fraga said, 'That's enough. Magazines should educate, and contain 50% professional content.'
The rest could be leisure material. [Noticias Médicas] didn't have enough content, so I leveraged the situation.
I started translating, and then learning.
Question.
It changed my perspective. As I told you, I immerse myself in everything. I'm hyperactive and hypersensitive.
I immerse myself in art and in medicine for economical and ethical reasons. I'm also
in favor of free abortion on demand, feminist issues and once I returned,
Barcelona felt too small to me. This is clear. In Barcelona, I started exploring my options because time and tide wait for no man.
What do I do then? I become more knowledgable, and in 1976, I returned to Barcelona with the PR head from Artcurial, an art gallery in
France founded by L'Oreal. There's this law in France that establishes that companies can claim tax relief if they donate 1% of their profits to culture.
By doing so, L'Oreal ended up creating one of the biggest galleries in the world: Artcurial. The director back then
wasFrédéricMitterrand??, a brother of the president of the Republic [François Mitterrand]. Mitterrand was the director of this gallery, and in 1976, I returned to Spain
with the PR head of Artcurial. It was the first time that the Drassanes Reials de Barcelona [shipyard]
hosted an art opening. It was all my doing. During Samaranch's term in office, the Diputació de Barcelona restored the exhibition for me. I opened the Dressanes shipyard for Blasco Mentor's exhibit.
Who is an important artist of Art Corial that had gone from Spain, that is, from Catalonia because he'd even been a sergeant in the Republican Army.
And they were after him. Then, he goes to Paris and works on his career as an artist there. He comes back to Barcelona in 1977, three days after starting in the government of Josep Tarradelles.
As a public relations, I have the honor of being the first who came out from the Generalitat saying 'The president of the Generalitat
invites you', because of my organisation. The exposition of Blasco Mentor at Drassanes.
Question.
For god's sake, we are honest and objective people. Franco's reign is treated as it was: a coup. There was a legal republican government and
a man, a general in Africa, rose up against this lawful government. After crossing the Strait of Gibraltar,
he enters the Peninsula through Andalusia and arrives in Madrid. The last to surrender were the people of Barcelona. He entered Catalunya from Aragó
and this is when the Battle of the Ebro took place. In schools, it is treated as a coup, not as anything else. The [current] government, which is Francoist, doesn't like this?
Screw them. It's the plain truth.
Question.
This makes me laugh. If this statement was true, I wouldn't be in favor of independence. Because how is a child from 1943, raised and educated under Franco's reign, pro-independence?
Today's children should be. They have been educated in Generalitat's schools. This is a deceitfulness, an awful deceitfulness. They, the ones living in a cave, as well as the Madrid-based mass media,
the ones that are deaf because they don't want to listen, blind because they don't want to see, and idiots because they don't want to think, are cocooned in a dogmatic reality.
The reality is that we are pro-independence because we think; we think and we analyze what has happened after 40 years of autonomy?
And what has happened is so awful, so disappointing, and so frustrating that we are naturally pro-independence.
Naturally is the only way to put it. Emotions? Of course! We, Catalans, have had a lifelong commitment to nationalism.
But one thing is the heart, and the other is the mind. The majority of pro-independence people are Catalan nationalists from birth, but we are currently pro-independence for logical reasons.
We can talk about all the injustices.
Question.
It was another world. Both my father and my grandfather were amazing, but my home was patriarchal. My mother was a great woman, and I loved her a lot,
but she was patriarchal, as well. My sister and I did the dishes when it was our turn, but my brother never had to because he was male.
We did the weekly cleaning, but my brother didn't because he was male. Traditions were patriarchal back then,
and so was the law. A woman couldn't even travel alone with her children if the husband didn't permit it.
And now they say: "Oh, the power over the family is shared". It wasn't back then. It belonged to the father, and that was it.
We have made changes, yes. But as statistics show, women's salaries in Spain are lower than men's, even if they work the same amount of hours and hold the same position. I can give you all the proof that women are more productive than men in the same job positions.
There are Dutch studies, not Spanish, that show this. They [women] earn 30% less than men. This is serious. It's very serious. They say that at a biological level, women have more neural connectors than men because, historically, women did a lot of multitasking.
She tended the fire, cared for the children, guarded the cave. We are talking about the Stone Age. Men were better navigators because they had to return to the cave. But they only hunted; that's the only thing they did.
They say that from this anthropological point of view, women are able to do more things at a time than men.
It's a theory. I don't know if it's scientifically proven. I've read it in books, but I can't tell you whether or not it has been proven. But demographically, it has been shown with several studies that women are more productive than men in the same job positions.
However, women are punished with a 30% lower salary. We need to address this issue.
Question.
If laws affect repression? Well, it's what I told you. It's an old habit, and habits and traditions are inherited.
Nowadays, they say: "Oh, how can children be so patriarchal if mothers are such feminists? Why do boys keep stealing their girlfriends' phones to monitor who they're talking to, and so on?
I believe there's a lack of education. They say that children are educated in school, but, allow me to say that in a school system here,
more importance is placed on grades than on [emotional intelligence], which is what education actually is. Education builds knowledge, and psychology informs the unconscious.
And the unconscious is the one that acts patriarchal. When it comes to education, the paternal and maternal models are very important.
A woman that works, that brings money home, that yells every once in a while and that vindicates herself, is a model that both the son and daughter will learn to adapt to.
On the other hand, a woman who doesn't work, who spends all day cleaning the house and who is yelled at or hit–or worse–by her husband,
and lives in an economic prison, only receiving money for a few things, the son will think that, the day after tomorrow, he will be able to act the same way.
He may find a woman that consents to this, or one that tells him to get lost. And what will happen? If he finds a couple of women who tell him to get lost, he will be miserable.
I think that the education and role modeling parents pass down to their children are very important. One thing that has been proven by experts is that an abuser will always be an abuser.
Because the background is deeply-entrenched, and he can't forget what he has seen and experienced growing up. I find this awful, truly awful.
Question.
I think I get you. You are asking me how people reacted when Franco passed away. I was in Paris by then so I can only tell you how my family and the Spanish people I knew reatced.
We were waiting for something to happen. It was like: "Well, and now what? What's going to happen? What are we looking forward to?" We were looking forward to freedom, to a split,
which wasn't the Transition. We wanted a real split. We wanted a pre-constitutional period where the people had voice and that from here, a open, clean and clear Constitution would come out.
This didn't happen. The ones that were already inside made up a Constitution because Suárez, had already been the general director during Franco's reign.
I totally respect him for what he did, but it wasn't enough. The military was always on point to attack and what happened?
The Fathers of the Constitution, such as Miquel Roca and Jordi Soler Tura, were determined/conditioned by the military.
There's an article that is causing much trouble today about Spain's unity, that was imposed by the military. We are talking about a Constitution that was completely conditioned by them.
It wasn't a real constitution made by a nation in a pre-constitutional period. I remember that in 1978, while I was working in El Diari de Barcelona, people were talking about the Constitution. I wrote 2 articles complaining about the fact that the Constitution was monarchical.
We didn't vote that. I wrote 2 articles and, by the time I was writing the third, the director told me: "Enough Dolors. Don't follow this path. It's enough". Did censorship exist? You tell me.
Auto-censorship existed, too. And the director was up to here with us.
Question.
Today's censorship is different. The Government censors through subsidies. It subsidizes all the newspapers from the cave [rest of Spain], such as La Razón, El País… This last one used to be a serious newspaper, but today it's no more than a pamphlet.
Of course, they also subsidize La Vanguardia. This newspaper has undergone a radical change with [Editor] Josep Antic's departure. He was an objective man who defended the rights of Catalunya. The current director
is a unionist that defends unionist interests. From that point on, it became a different kind of censorship;
it's the censorship of money. I subsidize you if you support me, but I don't if you support others.
Question.
This is huge. We are talking about historical memory, historical memory. Every country that has suffered a war, and that has been somehow repressed, honors its victims.
This is not a cultural matter but an ethical one. An emotional matter, a matter of conscience. In Spain, they are denying our historical memory.
We have a Government that denies families the bodies of relatives who died 60 years ago. This is because "El pacte del silenci".
Constitution solved everything alone with Transition??
This is huge. There's no country in the world that can endorse this. Can you believe there are families that have been able to open graves from the Franco period thanks to Argentinian courts?
For God's sake! This is huge.
Question.
I already told you my part. I was privileged because I had information other people didn't. I, for instance, knew that the Constitution was influenced by the military.
I knew it, it was a tête-à-tête in the press. Of course we weren't allowed to write about it, but we knew.
On the other hand, I had my experience with the monarchy. They shut me up when I tried to talk. I wasn't happy at all.
Were ordinary people happy? Probably, Yes. They saw that the country was opening up at the same time that Franco's reign was coming to an end.
If you look at the numbers, you'll see that in Catalunya people vote less than in other regions. I have to tell you that one thing was the information that ordinary people had and the other was ours.
Question.
The Estatut de Mirabet, passed in 2006 and implemented by Maragall, replaced the Estatut de Sau from 1977-1978.
But that is because that Estatut was 28 years old – from 1978 to 2006.
Catalans knew that in this span of 28 years, around 16 million pasetas disappeared from Catalunya and never returned. Catalunya, that had been historically the richest region in Spain, was stripped of its assets.
With the economical crisis that started in 2009, Catalunya is the third poorest Spanish region. I believe The Canary Islands is the poorest.
I don't know which one is the second but we are the third. The poverty rate in 2009-2010 in Catalunya was the 22, 23, 24, 21 %. In 2011, we achieve a 19,7%.
Nowadays, since the crisis has calmed, we are around 17%. I'm not sure if 17,2% or 17,6%. There are still volunteers and soup kitchens for children
during summer. In winter, school canteens compensate for the lack of food that families have. Since, in Catalunya, kids don't go to school during summer, soup kitchens are organized for them
in order to reduce poverty. It's not fair! In a magazine from the Sindicat de Metges de Catalunya in 1989, I already said that the State
spent 9,976 Spanish pesetas more per-capita on health in the Basque region than in Catalunya. A lot has happened since 1989. This difference has grown bigger.
A Constitution that makes every Spanish person equal? We don't buy it here. We just can't buy it. There are a lot of evidence that say otherwise.
The Basques have all their money because they don't give much to Spain. Here, we need to wait until Madrid give us something. Right now, they are denying people to sit an examination for Mossos d'Esquadra.
Why? Because Hisenda doesn't want to. However, it's known that with terrorism, people are needed. And that's what the Generalitat and the Conseller d'Interior try to do.
They are denying the acces to Europol's information. This is playing with the security of every Catalan.
But Basques are allowed. What equal rights are these? Catalan students only get a 5% of scholarships.
Only a 5% of scholarships get to Catalunya, even though it has a 16% of Spanish population and collaborates with a 20% of the Spanish PIB.
According to the PIB, we should get the 20%, and according to the population, a 16%. But we have a 5%. Do you know how much Madrid gets? A 55%! And they say that we are all equal? Do they think we're stupid?
Really, do they? You go to Rodalies [Catalan train] and you see the disgusting trains. Go to Madrid, go to Galicia, go to the Basque Country, see their luxury trains.
So, what's going on? Do they despise us? Are we a colony? This must have an explanation. We can keep going if you want to.
Question.
University fees? Well, this is another issue. The cave [Spain] will tell you that well, the universities are the ones that establish the fees. We should either blame the Generalitat or the rectos,
because they are the ones that decide the fees. They don't turn a hair. We are the ones to blame and that's it. Come on, a rector has to do its calculations,
and he has to know how far can he get. He charges students because he doesn't receive enough money. The Generalitat gives autonomy to the universities and moves out of the way. I can't tell you if there's some sort of agreement
between Generalitat and universities. I'm not sure how it works. But the thing is, that the person that manages money
know how far he can get to guarantee the minimums and how much he receives from above.
Question.
We can analyze 23F as we used to back then because nowadays we know that the king played a key role. We found this out around a year ago, a few months after he gave up the crown.
This information is now free to consult. It's not longer a part of things than can't bee consult. They have released the info. We knew that the king Juan Carlos played a key role.
How did we live it in Barcelona? We experienced it with distress. Everybody though that it could be a regression to a military coup.
Back then, I was a collaborator in the magazine Treball, from PSUC, the communist Catalan party. We were so scared.
They though they could go to jail. Everyone hided. Some of them went to their second home because they knew people were looking for them. The photographer from Treball magazine
took all the files with him. It was a fuss. From another point of view, there was a coordination with Pujol, who was the President of the Generalitat; Josep Tarradelles, the government delegate
and people were expecting some news. We knew that the military had taken the streets in Valencia with Bosch. We expected the same here.
Luckily, my husband back then was in the Government press office and so he would call me every hour. We were afraid that the military would go there
and impose themselves and so on. I can actually tell you a story. In one of the calls my husband made, I heard an awful noise, and I though it was a gunshot.
At the end, they were only some tables that had fallen. We were very anxious until the king appeared on the TV and said that everything was fine and under control.
But it took him a long time. Of course, today we know that he wasn't sure whether to be in favor of the participants in the coup or the congresspeople, which, by the way, were kidnapped.
They said that he was advised by his brother-in-law Constantino, who had already lost Grace due to a coup.
By the time he appeared on TV, he was already in favor of the congresspeople and the Parliament. Later on, the participants in the coup were judged. Poor people, they had to carry the can.
History can be wicked.
Question.
Let's see. What happened in Hipercor was an awful and huge thing. We weren't used to terrorism in Barcelona and, well, you see how pacifists Catalans are when it comes to independence.
Terrorism scares us. The first thing we thought when it happened was: "What are we guilty of? What have we done to te Basques?"
Let me tell you something. Back when my father was in the concentration camp, he lived with Basques. They were starving, because people really starve in concentration camps.
Families would send them a package with food such as chorizo, butifarra and bread and so on. Catalans would always share their food with the rest.
But the Basques only shared their food within them. My father always said: "I won't give them anything the next time! It's awful what they do."
But once he got the package, he would feel so bad for them… What's the deal, then? Well, one remembers these histories. Nowadays, Basques are so unsopportive…
…whereas we, Catalans, have always been. I always remember this history, you know? I've remembered it a million of times. I got so mad to the Basques when I first heard about the Hipercor bombing.
The fuck are you doing here? What the hell have we done to you? This was huge, very huge. Come on, be a nuisance to Madrid or to whoever that bothers you.
We don't have anything to do with that. On the other hand, I told you about me being in Paris with Art Corial's public relations, and I'm also the first person
who organised an institutional and political exposition here, in Catalonia. As I was connected to the PSUC, the priest Luis Hernández, who was Santa Coloma de Gramanet's mayor.
He called me through some PSUC's friends so that I would organise an informative exposition for him, because he had been on his first four-year constitutional term of office, let's say.
And, when I was supposed to lead the second one, he wanted to make everyone know what he had done. In 1982 or 1983, I organised the first institutional press' campaign with an informative exposition.
In Torre Vallgorgina, that had been opened recently. The first institutional exposition that had to be closed when the political campaign started.
And the architect that helped me in this campaign and in the organisation died in the Hipercor. Therefore, it wasn't just rationally that it affected me. I thought 'are we to blame?'
So it also affected my friendships because I lost one friend. I understand the strategy of forgiving them but these things are very hard to forgive. I don't know if I'm able to.
Question.
We need to distinguish between nationalist feeling and Catalan identity. I've always had this last one because I was born in a Catalan family,
of Catalan roots. Almost all the surnames from my father's family and from my mother's family are Catalan. I only have 2 from 10 or 12 that aren't.
They are from the Franja, from Aragó. It's controversial now. Aragó's Government would let its citizens to write in Catalan, not even learn Catalan. Hence, one thing is the feeling
and the other is the reason. At the feeling level, I've always had this identity, and, at a reason level, it has been through 40 years of injustices.
There's no other way than independence. Some nuts still talk about a third way. But come on, how can you make a deal with a PSOE
that has betrayed us several times? Those who still have memory remember when Zapatero said: "I'll pass the Estatut of the Catalan Government". Lie.
From the Catalan Parlament, it went to the House of Representatives (not sure if it's the same) and then to the Senate. The wretched Alfonso Guerra hurt our self-esteem.
He boasted that he had passed it to Ribot, which is awful. From then on, they pass the Estatut to the TC, which keeps on polishing it. We didn't vote the current Estatut.
Catalan population didn't vote the current Estatut, it's imposed. We are under a dictatorship. Why do they complain? What don't we understand?
Question.
Excuse me, this was watered down with the "café per a tothom". Spain had three regions with historical autonomy.
One was Galicia, with all my respects, that has Galician as its own language. The others were the Basques and the Catalans. The politicians and the judges haven't
payed attention to the dictionary. The Andalusian Estatut didn't end in hands of the judges of the TC because Mariano Rajoy didn't impeach it.
The Catalan one was. The Andalusian Estatut recognizes Andalusia as a nation, for god's sake. Andalusia doesn't even have its own language"
Whereas Catalunya does. We were recognized as a nation in the preamble of the Estatut and the TC removed it.
They don't even pay attention to the dictionary. What a rabble! They don't even pay attention to the dictionary. So, where are we?
It's enough.
Question.
Let's see. As I told you, I'm 73 and so I've done almost everything. I can do whatever I want to now. I've demanded what I had to.
If I'm satisfied of my trajectory is because I've always been a coherent human being. And in this country, coherence is a toll/turnpike?.
A toll/turnpike that has to be paid. I've already paid it. I've already paid it. I've paid it with my own failures and with many other things. But, keeping in mind how far I've got and my age,
I just don't want to leave this coherence behind. This coherence makes me defend my country. It's the last thing left to do.
I won't get into politics in my age. I have had the chance. Some friends of mine wanted me to.
But do you know what my husband has always told me? My husband, the man who has always been by my side. That I didn't have the right personality, because I always speak my mind.
Politicians have to be hypocrite, go behind people's back. I just don't know how to do that. So, listening my husband's advice, I haven't gotten into politics. And I'm too old now.
So, I'm an activist at a social level. I collaborate with what I can. During the 9N, I collaborated with the press office of the NC.
I sent things to the international press. I did what I could, definitely. If now they ask for volunteers for the Referendum, I'll be there. When the contestations,
I wrote a letter to the Attorney General accusing myself of having voted on the 9N and of having volunteered. I'm still waiting for an answer. I'm here to help my country and to clean it up from corrupt people.
I also want to leave money to my grand-daughter, because I only have one, and to the generation that follows. My children have to work nowadays. The people of our generation are the ones that must
devote themselves to this.
Question.
As I told you, society is based on a series of traditions. We lived under a patriarchal society back then.
Mothers wouldn't talk to their children about sexuality and so kids would get to their teen years not knowing anything at all.
Moreover, there were inventions that didn't exist, such as methods of birth control. Nowadays, children receive sexual education lessons at schools. I believe the Spanish society was rooted in very old traditions.
When it came to legislation, divorce didn't exist. A woman couldn't travel alone with her kids. The media couldn't take pictures of naked people.
Of course we were repressed. But one part of this repression was because Franco and the other because the Spanish traditions.
Society had a very conservative traditions that hadn't undergone any change. My first husband and I had to go to Perpinyà to watch erotic movies.
We had to go to Perpinyà because you couldn't find them in Barcelona. I watched Last Tango in Paris in Perpinyà. We just couldn't do it here.
Question.
The Catholic Church was, without a doubt, Catholic, Apostolic and Roman. The worst sin was the 6th commandment, the one that made allusion to sexuality.
The Church forces people to take some sort of preparation before getting married. They had to prove they were virgins and so on.
What am I supposed to tell you? People then saw it. Religion education was deep rooted at the beginning of Franco's reign.
However, during the last years, there was some kind of separation. People realized that Church wasn't the right way because it hadn't been coherent.
It hasn't been coherent. My ex-husband and I split in 1976, when divorce didn't exist. You could separate canonically, that being said, trough the church.
But only rich people could do it because it costed 100,000 pesetas. Is this coherent with the Roman Apostolical Catholic Church? Let me laugh.
I have to laugh. Do you get it? For doing this kind of separation, you were requested a series of non-ethic things
such that you had married conditioned. That is, someone from your family had been a matchmaker, a procuress.
I find this awful, who cares whether this is true or not? Do you get me? Then, there's another thing I found very serious. Actually, it made me decide that I would never ask the canonical separation.
When you separated canonically, your kids were no longer yours but theirs, because the marriage hadn't been legal. It annuls it.
Divorce takes it back, Church annuls it. It's not the same. They say that, keeping in mind that the marriage is annulated, the children are not yours but naturally legitimated.
This is aberrant. This, along with the amount of money I had to pay, made me forget it. I don't want it any more. My generation has been through everything.
Is when you analyse these kind of experiences that you say: "well, you know what? I'm satisfied. I've always been coherent with what I've believed".