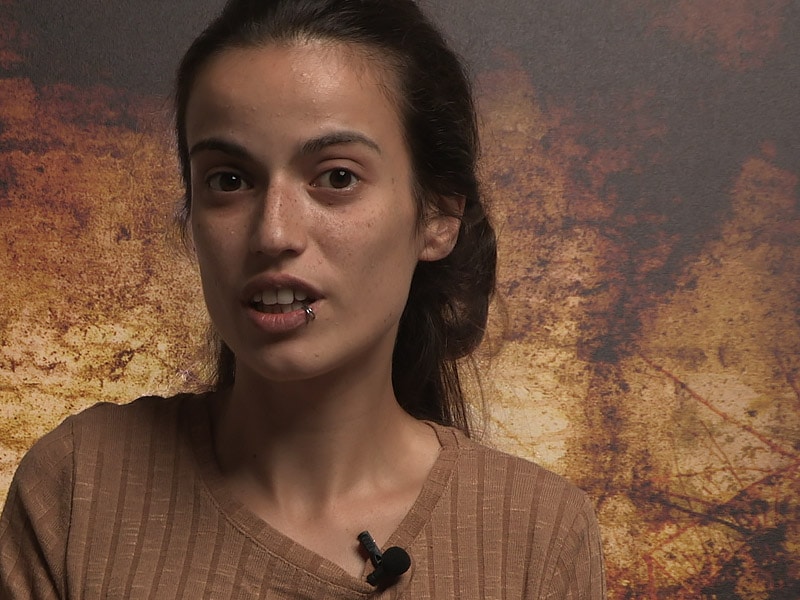 August 17th, 2017.
Well, I had just arrived from a trip last night and I woke up late, tired and not wanting to go to work at all.
I put my little will to work aside, dressed up, and went out at 17:05 to take the subway in Paral·lel, to get in line three towards Diagonal, to my job.
I walked down the stairs and I find about 150-200 people in the platform. They were all looking at their watches, wondering what was going on and why didn't the subway come.
There was a man in the assistance pillar, where there's a button that communicates you with someone who can give you information or aid you, who was demanding that they please gave everyone our ticket money back, because the service had stopped because of some issue they weren't informing about.
I called work to tell them I would arrive a few minutes late, since the train wasn't coming and I had to take a taxi.
My partner, from our job, told me that he had just spoken to his wife and she had told him that something had happened in 'Las Ramblas'.
It wasn't known yet whether it had been a bomb, a terrorist attack, fake news…
But he told me, literally, "Get out of the subway".
I, feeling absolutely upset, had a strong adrenaline rush in my veins, I woke up suddenly.
My first reaction was to look up online 'Ramblas de Barcelona'. I found an article, posted four minutes ago, that claimed there had been an attack.
And that they had ran over many people.
I was in that moment in the street, in Paralel across Sant Pau trying to get my best friend, my flatmate, on the phone, since she lives in las Ramblas.
She didn't answer my phone and, in that moment, I was in a state of the deepest panic, from the uncertainty and doubt about whether my friend was okay or not.
After a couple of minutes, I was able to locate her. She told me she was alive but couldn't say she was actually okay, because she was in a state of panic after seeing a stampede of people not even knowing where they ran.
A van that was mowing down everything in its way.
More people running, policemen also running from here to there without knowing exactly knowing who they were looking for nor where, because apparently the driver mingled among all the people who were running and was tough to find.
I, back then, had this very weird feeling that I've felt before and hope won't ever feel again.
I felt quite divided. On one hand, I knew I had to go to work because I'm very responsible about being on time. But on the other side, I had a need from the bottom of my heart to go running to 'las Ramblas' to defend my people.
It was a very odd feeling. I wasn't interested at all to go see the victims with morbidity. I wanted to help.
I wanted to help rescue people, call ambulances, call the firefighters, help the people who were then feeling disoriented get to their home or hotel.
In the end, I decided to go to my workplace and try to do something similar with the clients who were inside it.
Apparently, the police went around the whole city with a megaphone in hand, advising the establishments to close their shutters and keep inside, safe, all their clients.
Because there was, even though it ended up being a hoax, but there was supposed to be a bomb alert throughout the city.
So, I went to my workplace, asked the clients who were then to please call a cab or a relative or that they tried to go to the safety of their homes because it wasn't safe either being in an establishment.
After solving this, the three clients who were in the establishment where I work, my coworker and I closed down. I walked my coworker to his home in Eixample, since he's far younger than I am. He was terrified with the situation and was scared of walking all the way to his home.
I took refuge in this students' flat for four hours, which actually were quite comforting, I felt safe in there. Furthermore, since I live in 'Ciutat Vella', the police cordon didn't allow me to reach my home.
There were several hours of phone calls with relatives and friends from everywhere, who were calling to ask if I was okay, and I was calling my friends and relatives to ask too if they were okay.
When everything calmed down, around nine p.m., I decided to try to go back to my home again. When I reached my street, I found that the police cordon that wouldn't allow me to pass wasn't there anymore.
It had been centered, it had closed on the 'las Ramblas' area.
Around 11 p.m., my friend hadn't managed yet to get permission from the police to leave the place where she works and come back home.
What has affected me on a more personal and direct level has been my friend's history.
Because, what I'm gonna say is a bit tough, she saw people bleed to death in the sidewalk.
With a huge feeling of impotence because she couldn't save their lives in any way, since she's no doctor or nurse. The cops who were around, that had ordered them to close up – well, to pull down the shutters and lock from inside with everyone inside – wouldn't allow anyone to get out on the street to rescue or try to help those who were hurt.
That has created in my friend a huge feeling of pain and helplessness. I suppose that, in a way, they must feel – not only her, but everyone in general- a bit accomplices, because you see a lot of people hurt and your hands are tied, you can't help them, you can't rescue them, it's useless to call the ambulance because every street is cut off and not even the ambulance can reach there.
People were bleeding for hours in the street, without any help other than the other victims who hadn't been hurt, that tried to block the hemorrhages and give them some water, and it seemed that nothing else could be done.
Well, my friend is somewhat better now.
She's been attending the psychological help [sessions] that the city hall has made available for the workers in 'las Ramblas'. Things are a bit more calmed now.
But it's the way that has affected me the most, through my friend that worked there.
Of course, I feel bad for all the victims, but from me, to the terrorists, I can only say that they will never have my hatred.
To me, they are only people who are very confused, that are using religion as an excuse to create a war, about which they won't fool me, it's not a matter of religion, it's a matter of economics.
It's a matter of oil, not religion.
I think it's done.